High Frequency UPS Circuit PCB Board Manufacturing
| | |
| --- | --- |
| Tipo de Pago: | L/C,T/T,D/P,Paypal,Money Gram,Western Union |
| Terms of Trade: | FOB,CFR,CIF |
| Cantidad de pedido mínima: | 1 Piece/Pieces |

| | |
| --- | --- |
| Paquete: | Vacuum Anti-Static Carton Packaging |
| productividad: | 40000 Square Meters / Month |
| Marca: | JHY PCB |
| transporte: | Ocean,Air |
| Lugar de origen: | China |
| Capacidad de suministro: | 40000 Square Meters / Month |
| Certificados : | ISO9001 |
| HS-Code: | 8534009000 |
| Hafen: | Shenzhen |
Descripción del producto
Professional High Frequency UPS Circuit PCB Board Manufacturing
Keywords: High Frequency UPS Circuit PCB, Radio Frequency Board, High Frequency Circuit PCB, High Frequency PCB Manufacturing, High Frequency PCB Assembly
As The Best PCB + PCBA Manufacturer, We Are Your Best Choice.
With the development of science and economy, the electronic industry has become an important driving force for economic development. Electronic products have become a part of life, affecting people's way of life. High-frequency circuit boards are widely used in many electronic industries and some instruments and equipment, and high-frequency PCB applications are also increasing. Choose high-frequency circuit board manufacturers in good service to buy high-quality products for use, we have to understand the relevant knowledge of high-frequency board.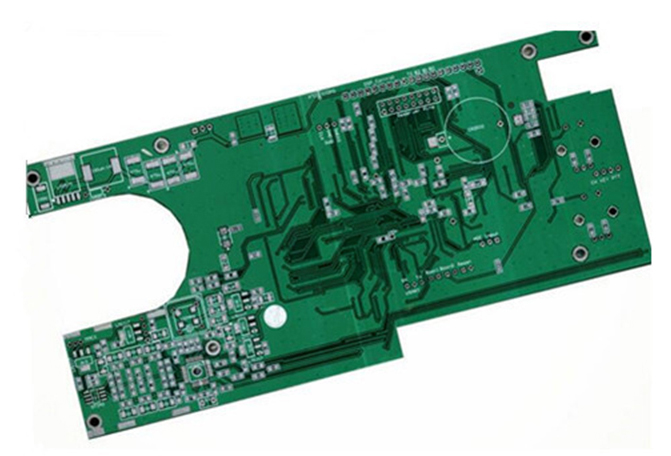 High Frequency PCB
What Is A High Frequency Circuit Board?

High frequency circuit board (HF PCB) is a special circuit board with high electromagnetic frequency. Generally speaking, high frequencies can be defined as frequencies above 1GHz. Its physical performance, accuracy and technical parameters are very demanding. It is often used in automobile anti-collision system, satellite system, radio system and other fields.

High Frequency PCB include:


Rogers high frequency PCB

Power amplifier high frequency PCB

Buried blind hole mixed high frequency PCB

Ceramic high frequency PCB

Ceramic mixed high frequency PCB

Communication antenna high frequency PCB

GPS antenna high frequency PCB

FR-4 high frequency PCB

Double sided high frequency PCB

Microwave High Frequency PCB

Induction High Frequency PCB

2.4G Radar Induction PCB

5.8G Microwave Induction PCB
Characteristics of High Frequency Circuit Board

Generally speaking, high frequency circuit boards have their own characteristics: low dielectric constant, relatively stable. In theory, the smaller the dielectric constant, the more stable the signal, and the higher the frequency circuit board can play a better role in signal transmission. Medium loss is very small, it is not easy to absorb water and moisture, heat resistance, corrosion resistance and other excellent performance. Conversely, if the dielectric constant is high, the signal transmission process is slow.

The thermal expansion coefficients of high frequency circuit boards and copper foil are also correlated to a certain extent. They are consistent as far as possible. The inconsistency can easily lead to the separation of copper foil in the alternate change of heat and cold. The later use will affect the signal transmission of PCB. The absorbency of high frequency circuit board is lower than that of other multi-layer circuit boards, because humidity will affect the dielectric constant and dielectric loss of high frequency circuit board. In addition, the heat resistance, chemical resistance, impact strength, peeling strength and other requirements are also good.

High frequency signals are vulnerable to noise and come with much tighter impedance tolerance as compared to conventional circuit boards.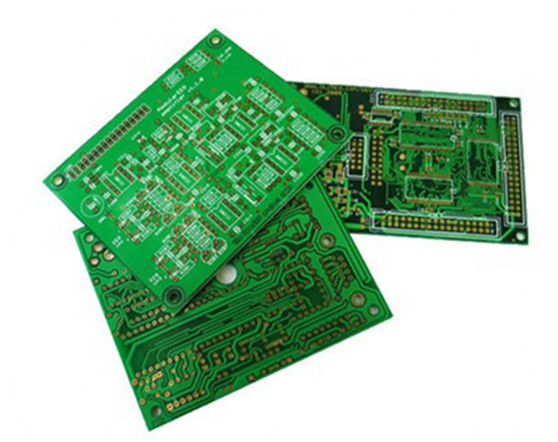 High Frequency PCB Manufacturing
High Frequency Circuit Board Materials

High frequency PCB have their own unique plates. Special materials are used to attain the high frequency given by the High Frequency PCB. PCB Manufacturer commonly used Materials are: rogers(Rogers 4350B HF.Rogers RO3001.Rogers RO3003).Taconic(RF-35 Ceramic.TLX). Arlon(85N).Isola(IS620 E-fibre glass).F4B.TP-2.FR-4,Dielectric constant 2.2-10.6 and so on. FR4 is the cheapest one, while T.eflon is the most expensive one. But they all have a common characteristic, which is the resin used in the material. The wiring of high frequency circuit board is exquisite and has great influence on components. High-frequency signals have the strongest impact on analog devices, so we should deal with the relationship between them to achieve the best performance. Therefore, high frequency is not easy to pass through high capacity electrolytic capacitors with poor high frequency performance.

The substrate material used in the high-frequency circuit board needs to have excellent electrical properties, good chemical stability, and the loss on the substrate is very small as the frequency of the power signal increases, so the importance of the high-frequency board is highlighted.

Therefore, when selecting a substrate for a PCB for a high-frequency circuit, it is particularly necessary to examine the various characteristics of the material DK at different frequencies. For the requirements of high-speed transmission of signal emphasis, or characteristic impedance control requirements, focus on DF and its performance under conditions of frequency, temperature and humidity.

Under the condition of frequency change, the general type of substrate material shows a large change of DK and DF values. Especially in the frequency range of l MHz to l GHz, their DK and DF values change more significantly. For example, a general-type epoxy resin-glass fiber-based substrate material (general type FR-4) has a DK value of 4.7 at a frequency of 1 MHz, and a DK value of 4.19 at a frequency of 1 GHz. Above lGHz, its DK value tends to be flat. The changing trend is smaller as the frequency increases (but the change is not large). For example, at 10 GHz, the DK value of FR-4 is generally 4.15, and the substrate material having high-speed and high-frequency characteristics changes in frequency. In the case of DK, the DK value changes little, and the DK keeps changing in the range of 0.02 from the frequency of change from 1 MHz to 1 GHz. Its DK value tends to decrease slightly from low to high frequency.

The dielectric loss factor (DF) of a general type of substrate material is affected by a change in frequency (especially in a high-frequency range), and the change in DF value is larger than that of DK. The law of change tends to increase. Therefore, when evaluating the high-frequency characteristics of substrate material, the focus of its investigation is on the change of its DF value. There are two distinct types of two types of substrate materials with high-speed and high-frequency characteristics. In general, there are two different types of substrate materials: one is that the (DF) value changes little with frequency. There is also a class that, although similar in magnitude to the general substrate material, has a lower (DF) value.

High-frequency circuit boards with induction heating technology have been widely used in the communication industry, network technology field promotion and high-speed information processing systems to meet the requirements of many high-precision parameter instruments. A reliable high-frequency circuit board provides great help in actual production.


For more information about the High Frequency Printed Circuit Board and the production capacity of our High Frequency PCB Circuit Board , please contact us.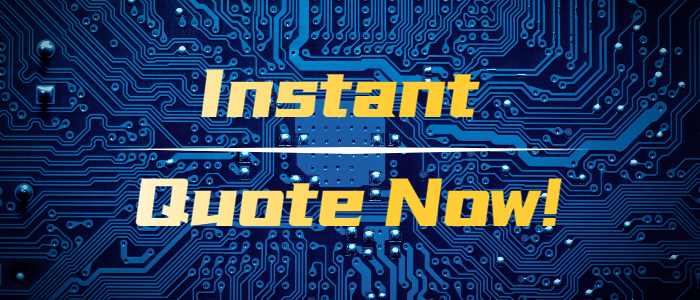 Get Your Instant Quote Now!
Custom Quote Requipment

To ensure an accurate quote, be sure to include the following information for your project:
Complete GERBER files including the BOM list

Other file types (Altium, Protel, OrCAD)

"Read Me" notes for additional fabrication information

Quantities

Turn time

Panelization Requirements

Materials Requirements

Finish requirements
Your custom quote will be delivered in just 2-24 hours, depending on the design complexity.
We Intech always take it as our mission by"Priority Customer, Effective Service",we insist in this management principle of "Development promote Management,Management benefit Efficiency".All of our employee keep firmly in mind with"High Quality ask for survival,High echnology ask for development ".We will strive to achieve our strategic objective:Professional Management,Large-scale Industry,International Market".
We can support your research and development efforts and meet your fast life cycles.We have set a separated department where the exclusive production planner will follow your orders production to meet the requirements of Rapid Prototyping and Quick Turn PCB.

1) We do PCB from double side up to 30-layer Multilayer PCB, HDI jobs.
2) If you have repeat orders from other suppliers, and you want to transfer to Intech, we can accept FREE OF TOOLING.
3) Except excellent quality and professional service, we also pay every detail for our customers, for example package to use Desiccant packs & moisture indicator in vacuum-sealed pack to protect PCB.
4) Material: We have FR4 TG135/TG158/TG180 normal material in stock, also have FR1/ FR2/ FR3/ CEM1/ CEM3/ ROGERS/ ARLON/ ISOLA.
5) Rigid / flex/ flex-rigid PCBs with UL approved.
6) Flexible,quickly feedback for customers always.
7) Quickly offer will be less then 4 hours, Some top urgent inquiry we can offer within 1hour.
We provide one-stop PCB/PCBA customization services. To meet all of customer's PCB/PCBA requirement is JingHongYi PCB service's goal.

1.To offer good quality PCB/PCBA to our customer, we will do many kind of testing to ensure quality before shipment

2.Outgoing test to check min PTH Cu thickness, Min surface Cu thickness, ENIG Au data,Ni data, Au layer adhesion testing, soldermask adhesion testing, silkscreen adhesion testing, Thermal stress testing, hardness testing, Twist testing, Bow testing

3.Microsection testing to check hole Cu thickness, Surface Copper thickness, Wrap copper thickness, Hole Wall Integrity, soldermask thickness and stack up.

4.E-test to check any open/short circuit.

5.Thermal Stress Test to avoid any Delamination, Measling and others.

6.Solderability of PTH to avoid any discolor, Wrinkles, Blisters, Measling, Blow-Hole, Solermask peel off, and soldermask filled in hole-wall incompletely.

Impedance testing, and so on...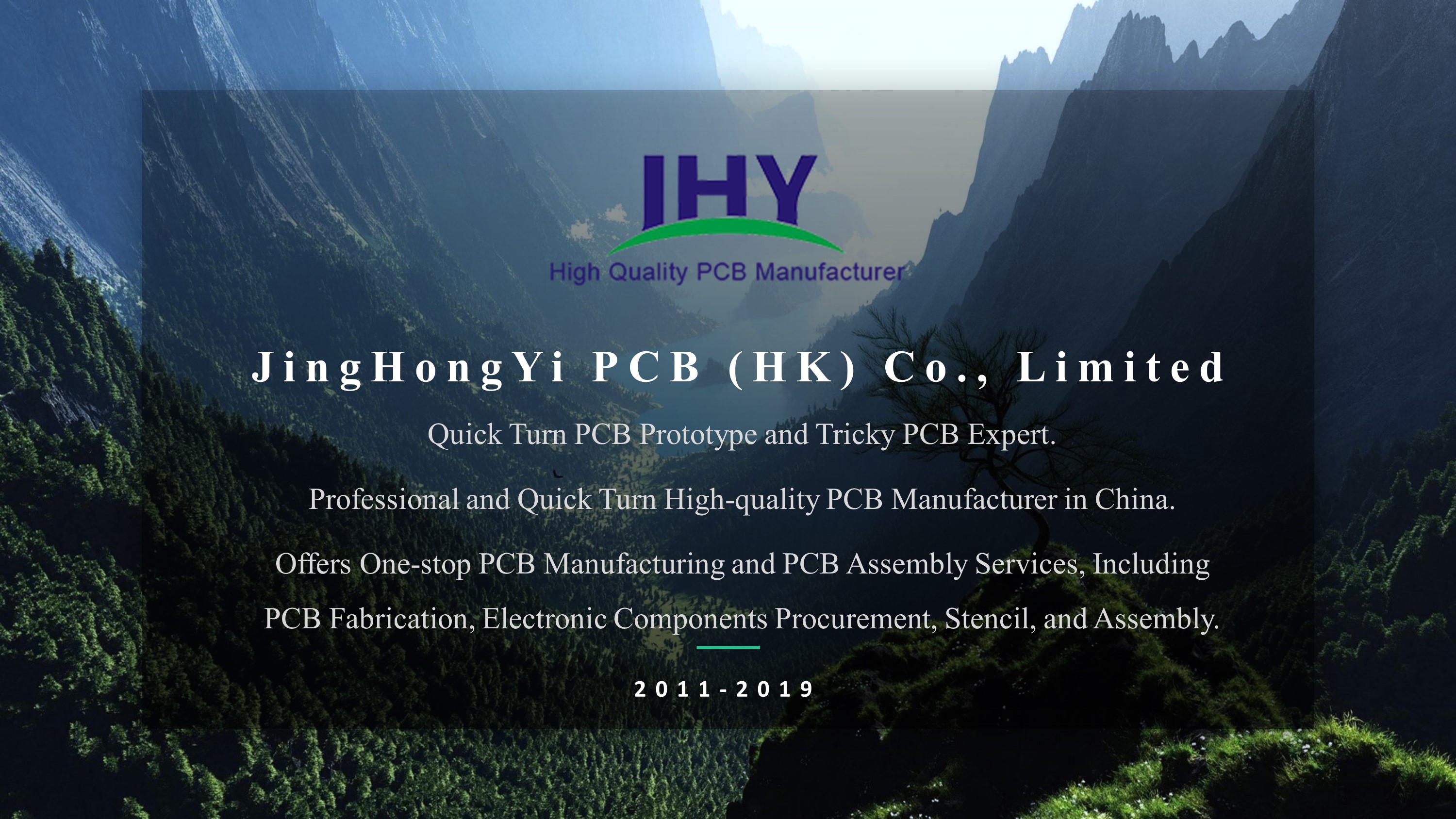 Inquiry Notes
As is known, PCB and PCBA is a customized product, so the details, please contact us and a quotation will be offered.
Please send us PCB files in gerber files, ".pcbdoc", ".lay", ".lay6" or ".brd", "CAM350 RS274X", "Protel 99SE", "P-CAD 2001 PCB", etc. For the PCBA quotation, the BOM list in the format of "xls" is also needed.
JingHongYi PCB (HK) Co., Limited

-

Quick Turn PCB Prototype and Tricky PCB Expert.

Professional and Quick Turn High-quality PCB Manufacturer in China.
Offers One-stop PCB Manufacturing and PCB Assembly Services, Including PCB Fabrication, Electronic Components Procurement, Stencil, and Assembly.


Jinghongyi PCB (HK) Co., Limited is a professional manufacturer of high-quality PCB. JHY PCB specializes in Quick Turn PCB prototypes, small-medium volume PCB. Established in 2011, located in Baoan District, Shenzhen, China, with more than 500 experienced employees, we're able to achieve a monthly output of 40000 square meters.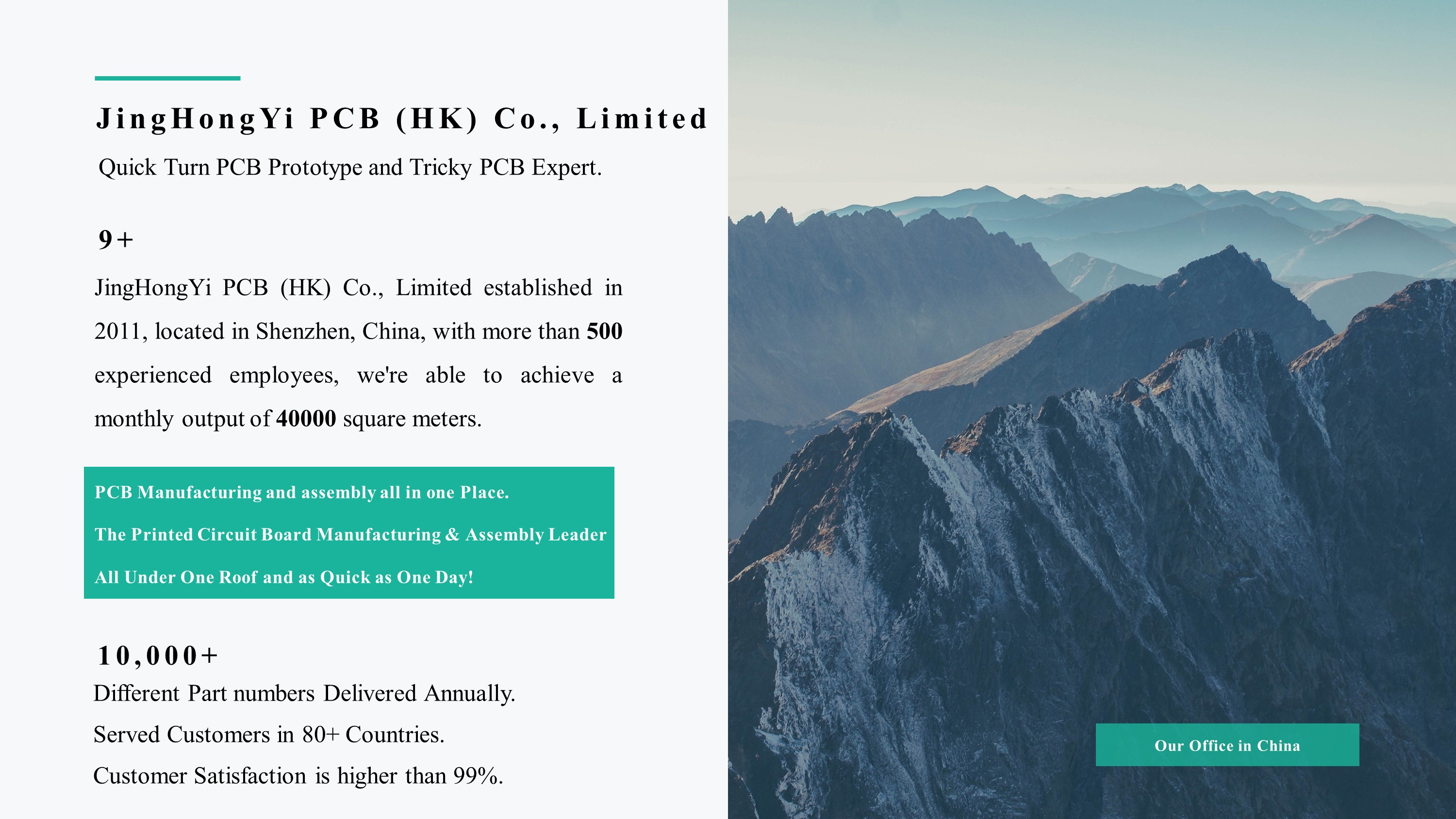 PCB Manufacturing Services
As one of the leading Printed Circuit Board manufacturers based in China, JHYPCB has been offering international companies of all sizes with high-quality PCB prototype to production services at a fair price for 8 years. To make professional and advanced circuit boards, we're committed to adhering to the strictest standards during the PCB manufacturing process, we're fully compliant with the ISO 9001:2008 quality management system.
- Save money&time! Achieve peace of mind!
- A professional and trustworthy PCB Prototype manufacturer.
- Fastest PCB Prototype.
- One-stop solution for various PCB& SMT Stencil.
- Low cost for simple PCB.
- Affordable price for high-tech PCB.
- Minimum orders 1pcs.
- 24-hour online customer service.
- Professional PCB engineer for one-to-one service.
- Shipment on time.
- Guarantee good service and quality from PCB quotation to delivery.
PCB Assembly Services
To deliver true value and convenience to our PCB fabrication clients, we expand our business to components sourcing and turnkey PCB assembly services ranging from the prototype, low-to-middle volume to high volume up to 1 million pcs. We can mount components on circuit boards using surface mount technology (SMT),through-hole technology (THT), and manual insertion:
- High-quality assembly services with short lead times
- No minimum order
- No additional charge for stencils
- Free DFM Check
- 100% AOI test and X-Ray test for BGAs package
- Function tests & IC programming based on custom requirements
One-Stop and Turnkey PCB Assembly Services
Prototype PCB Assembly Services

Quick Turn PCB Assembly

Turnkey PCB Assembly Service

Low Cost PCB Assembly

Low Volume & Small Batch PCB Assembly

Middle Volume PCB Assembly

High Volume PCB Assembly

Lead Free PCB Assembly

LED Lighting PCB Assembly

Double Sided PCB Assembly

Flexible PCB Circuit Board Assembly

HASL LF Multilayer Circuit Board PCB Assembly Services
All boards are produced according to IPC-6012 standards and inspected according to IPC-A-600 in the latest version. Our products are widely applied in communications, industrial control, power electronics, medical equipment, security electronics, consumer electronics, LED, etc. More than 90 percent of them were exported to Europe, North America, South America.
One-stop Service Include
| | | |
| --- | --- | --- |
| PCB Prototype | Quick Turn PCB | Single-Sided PCB |
| Double-Sided PCB | Multilayer PCB | Rigid PCB |
| Flexible PCB | Rigid-Flex PCB | LED PCB |
| Aluminum PCB | Metal Core PCB | Thick Copper PCB |
| HDI PCB | BGA PCB | High TG PCB |
| PCB Stencil | Impedance Control PCB | PCB Assembly |
| High-Frequency PCB | Bluetooth Circuit Board | Automotive PCB |
| USB Circuit Board | Halogen-Free PCB | Antenna PCB |
PCB
Factory and Workshop
Advanced Production Equipment, Skilled Technical Workers are the Guarantee of Product Quality.
We Guarantee to Provide Reliable Products Based on Advanced Manufacturing Testing Equipments, Well-known Raw Materials and Comprehensive Management Systems.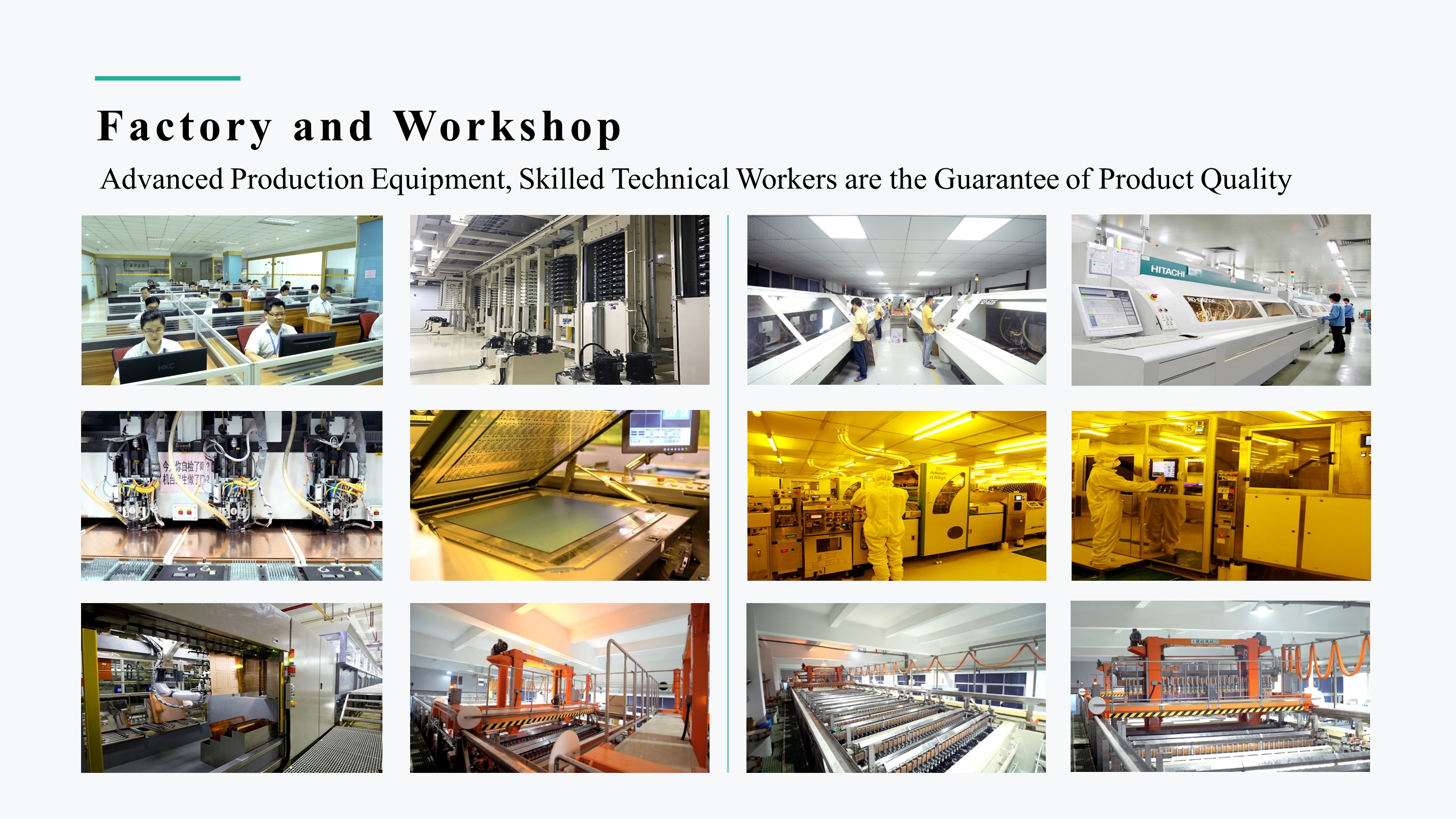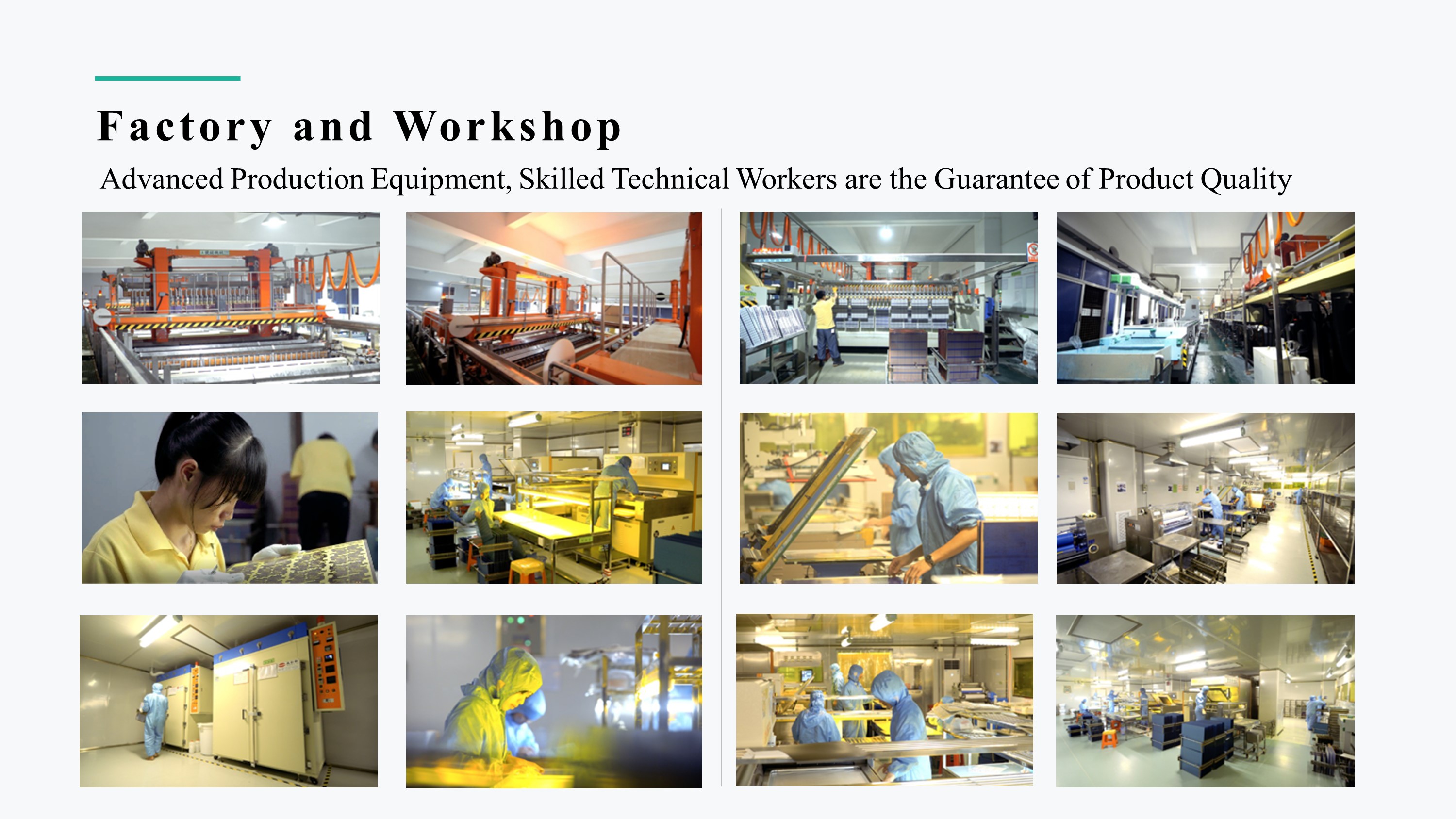 PCB Assembly (PCBA) Equipment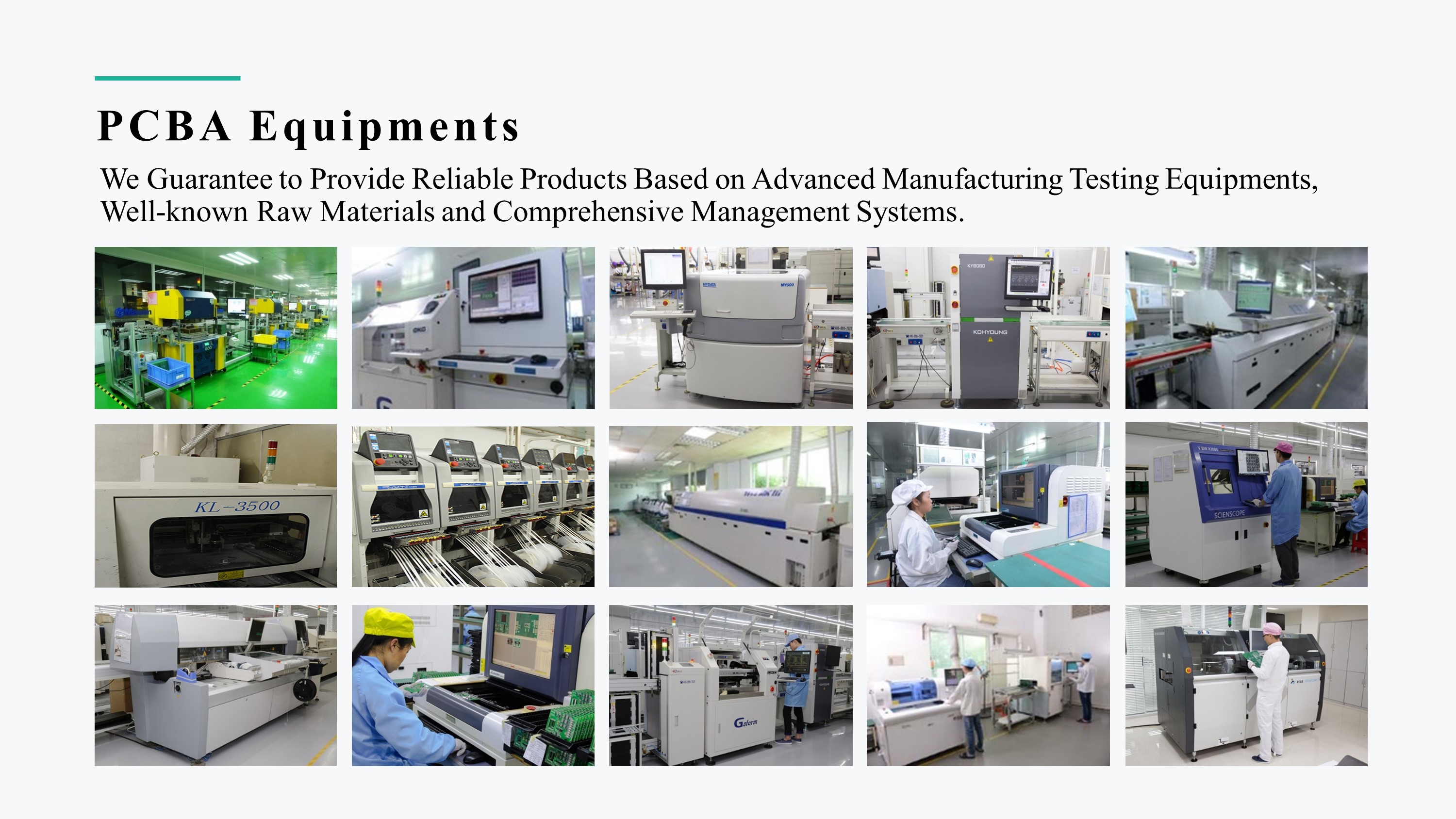 Applications
JHYPCB's Products are widely used in communication equipment, industrial control, automotive, medical equipment, security electronics, consumer electronics, aerospace and other high-tech fields. Over 80% of its products are sold in more than 40 countries and regions, including the United States, Europe and Asia (excluding China).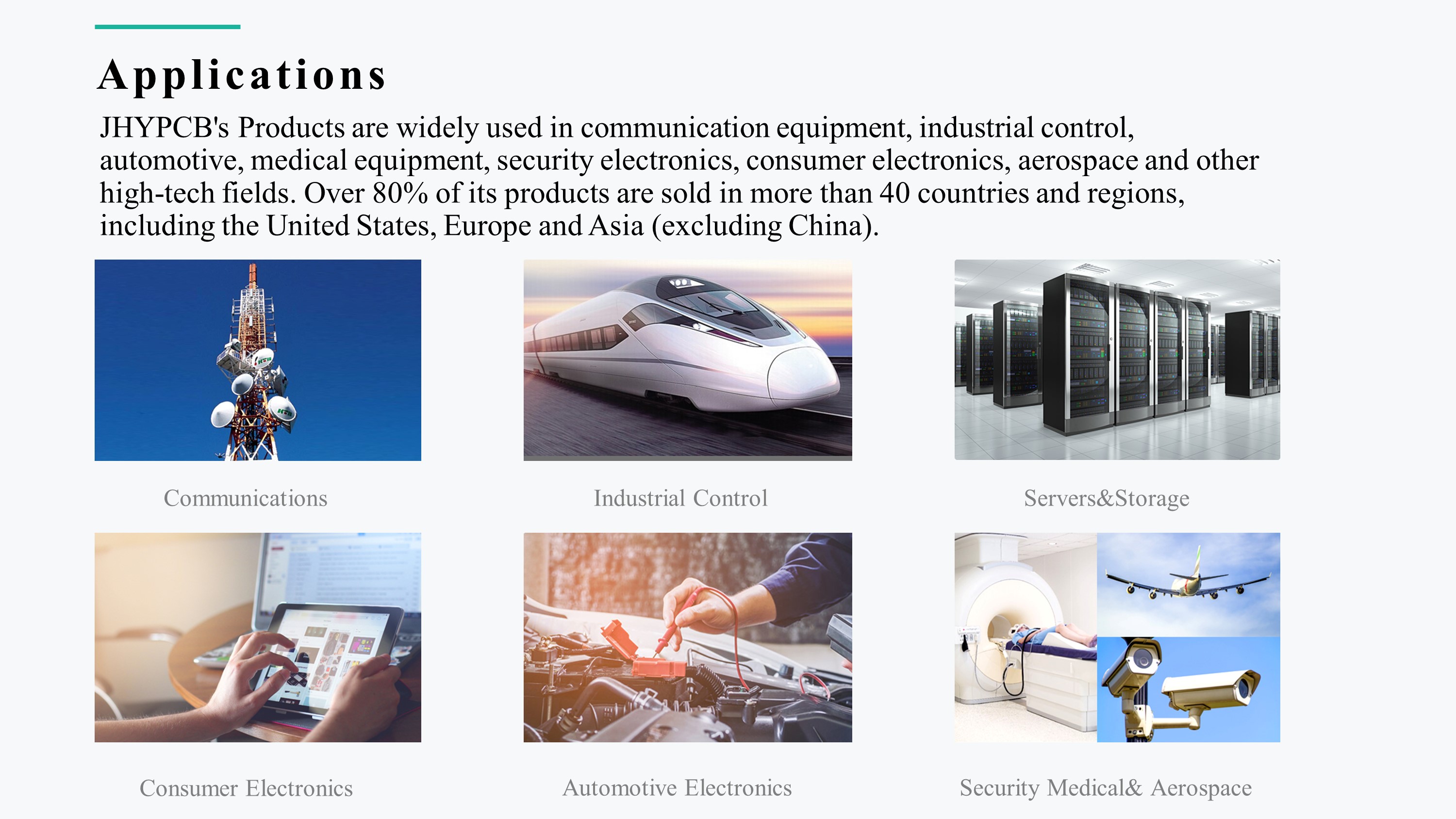 PCB Fabrication and Assembly Capability
At JHY PCB We Have One of The Best State-of-the-art Production Facility for PCB and PCB Prototype Fabrication in the World Which is Handled by the Best Professionals You Can Find Anywhere.
PCB Fabrication Handled By Professionals
We encourage electronic, computer and other related manufacturers to let our professionals handle all their PCB fabrication and PCB Prototype fabrication needs.
At JHY PCB we have one of the best state-of-the-art production facility for PCB and PCB Prototype Fabrication in the world which is handled by the best professionals you can find anywhere.

Our professionals bring in a lot of expertise, passion and technology into the design and assembly methods for circuit boards with high accuracy, speed and ease.

We encourage electronic, computer and other related manufacturers to let our professionals handle all their PCB fabrication and PCB Prototype fabrication needs.
What Our Clients Get from our PCB Prototype Fabrication
Professional technology service

Feasibility manufacturing suggestion

Expedited Delivery

Online Quote

Low Prices

One-stop purchase Solution
Lead Time - Quick Turn and Fast Delivery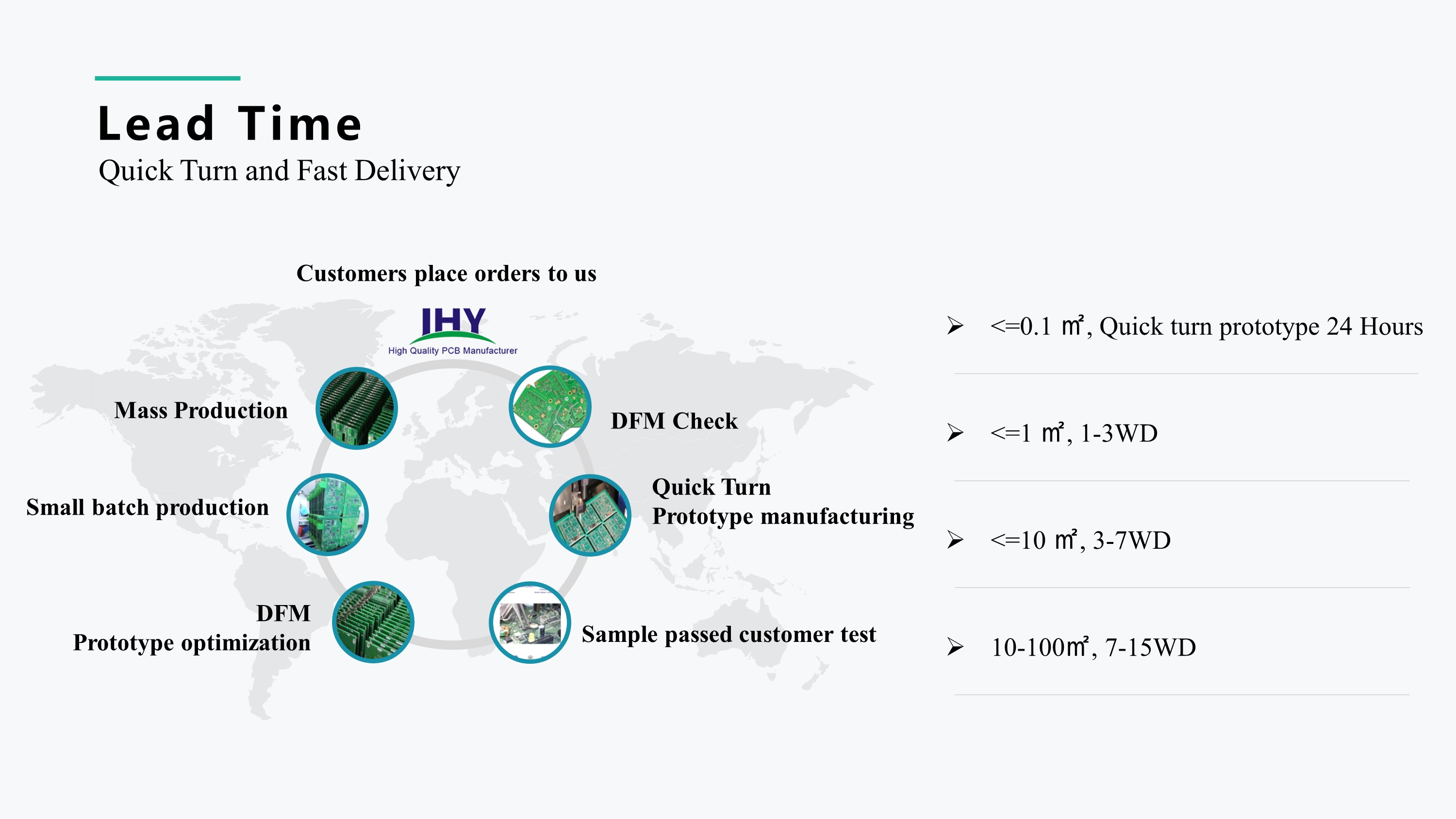 JHYPCB Manufacturing Capability

 

 

Item

Manufacturing Capability

PCB Layers

1~30 Layer

Quality Grade

IPC Class 2, IPC Class 3

Laminate

FR-4, S1141, S1000-2, IT180A, Isola-FR408HR, FR406, Isola 370 HR, Rogers, Taconic, Arlon, Halogen Free, etc.

Brand of Laminate

Kingboard, ITEQ, Shengyi, Nanya, Isola, Rogers, etc.

Max Board Size

533.4 * 762 mm

Board Thickness

0.1~8.0mm

Board Thickness Tolerance

±0.1mm / ±10%

Copper Thickness

Outer layer:1/3oz~10oz, Inner layer:1/2oz~6oz

Min Mechanical Drilling Hole Size

6mil(0.15mm)

Min Laser Drilling Hole Size

3mil(0.075mm)

Min Line Width/Line Space

2/2mil(Outer layer:1/3oz,Inner layer:1/2oz)

Surface Finishes

OSP, HASL, HASL Lead-Free (HASL LF), Immersion Silver, Immersion Tin, Plated Gold, Immersion Gold(ENIG), ENEPIG, Golden Finger+HASL, ENIG+OSP, ENIG+Golden Finger, OSP+Golden Finger, etc.

Solder Mask Colors

Green, Red, White, Black, Blue,Yellow, Orange, Purple, Gray, Transparent .etc.

Matte: Green, Blue, Black, etc.

Silkscreen Colors

Black, White, Yellow, etc.

Electrical Testing

Fixture / Flying Probe

Other Testing

AOI, X-Ray(AU&NI), Two-dimension Measurement, Hole Copper Instrument, Controlled Impedance Test(Coupon test&Third Party Report), Metalloscope, Peeling Strength Tester, Solderability Test, Logic Contamination Test

Special Capabilities

Thick Copper, Thick Gold(5U"), Gold Finger, Blind and Buried Hole, Countersink Hole, Semi-hole, Peelable Mask, Carbon Ink, Counter sink hole, Plated board edge, Press fit hole, Control depth hole, VIA in PAD, Non-conductive resin plug hole, Plating plug hole, Coil PCB, Super Mini PCB, Peelable Mask, Carbon Ink, Controlled Impedance PCB, etc.
Why Choose us
As a High-end Circuit Board Manufacturer, JHYPCB Has the Ability to Provide a Variety of Tricky PCBs Manufacturing. Fast Delivery, Quality Assurance is Our Core, One-stop PCB Circuit Board Manufacturing and PCBA Assembly Services, To Save Time and Cost for Customers.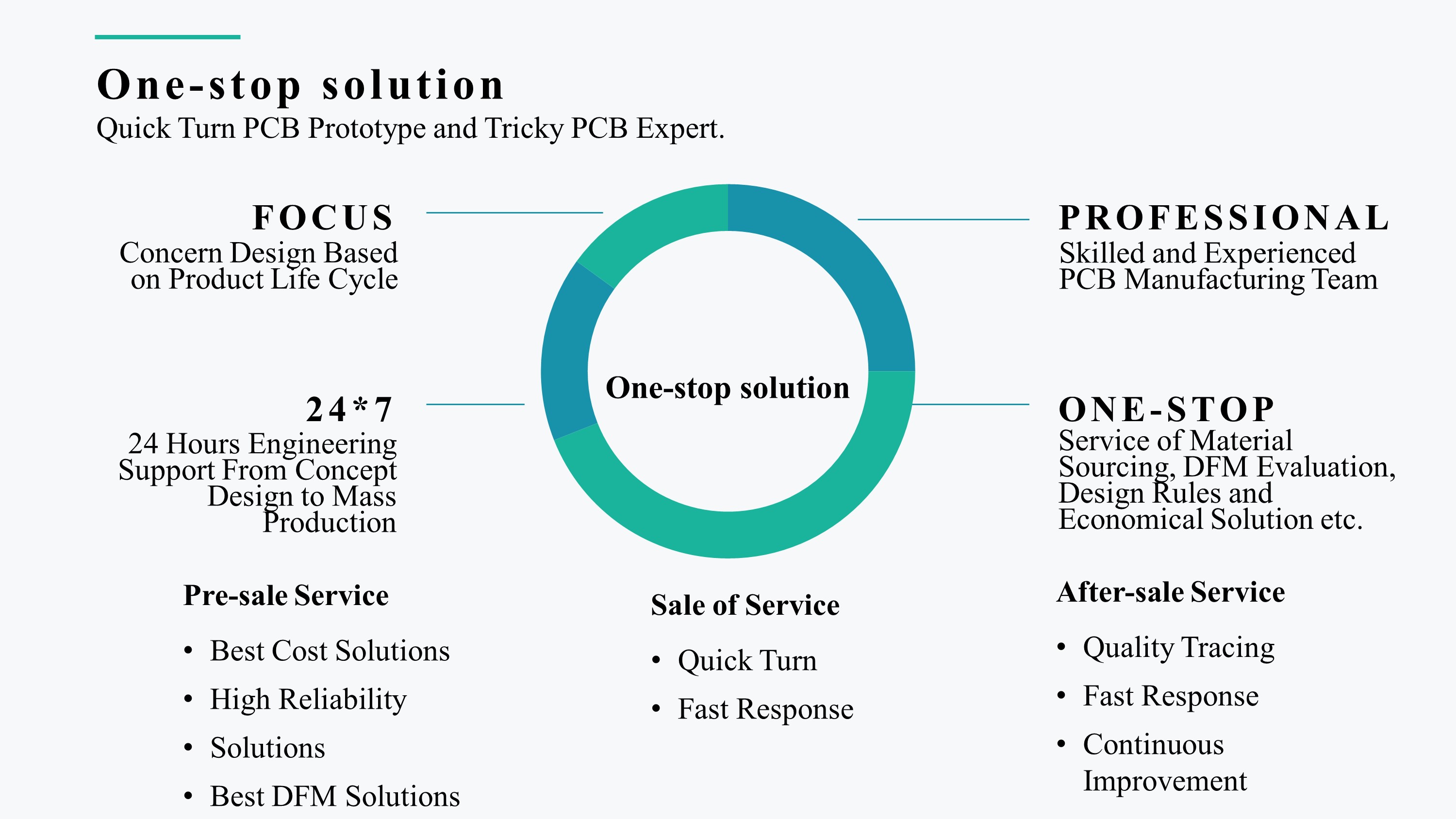 Certificate
UL, TS16949, ISO-9001, and RoHS Compliance.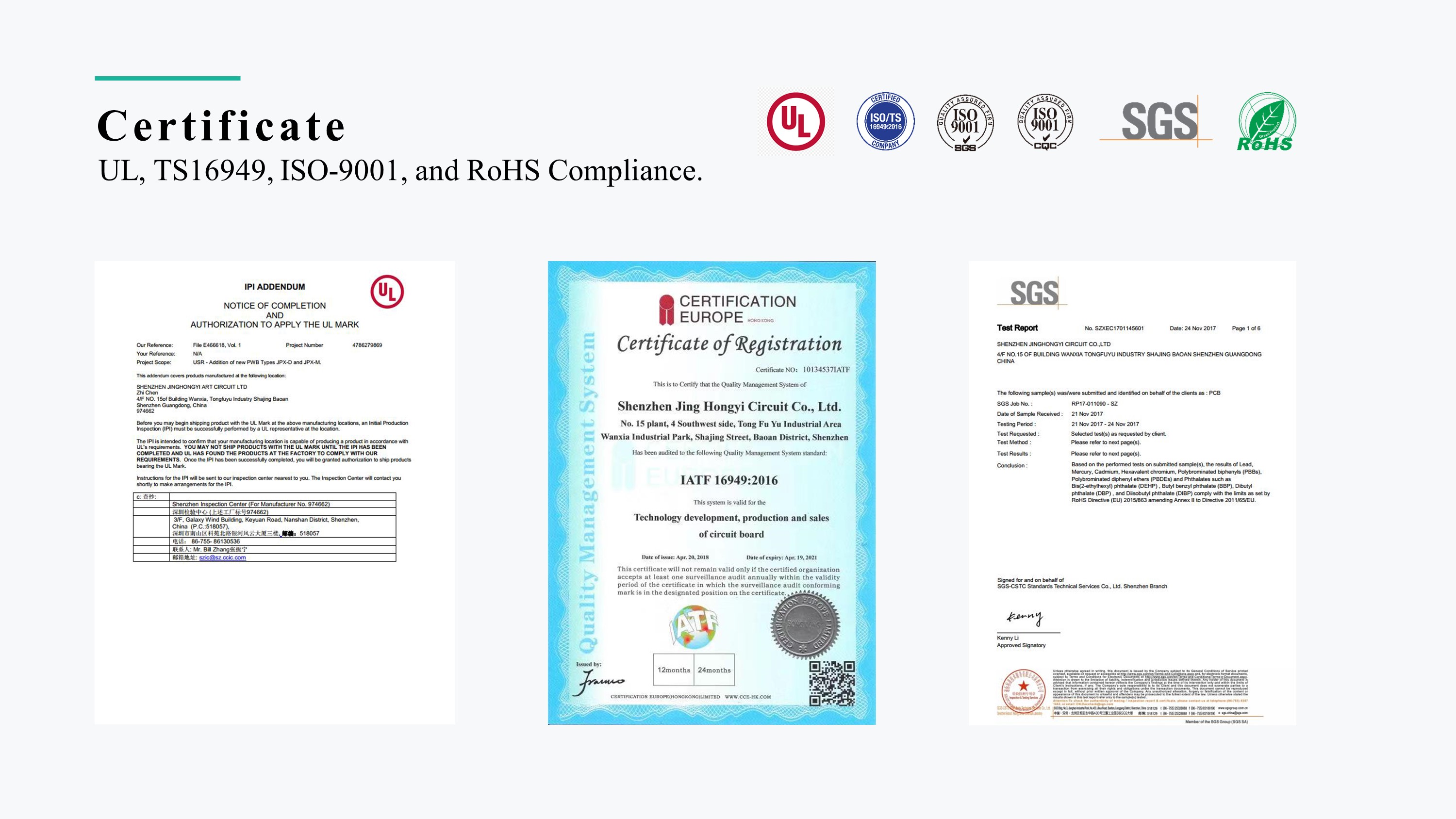 Quality Assurance
Incoming Quality Control
We use international famous brand raw materials, establish incoming inspection specifications according to international standards and customer standards, continuously track and promote supplier quality improvement activities, and establish and maintain a good partnership with suppliers.
In-Process Quality Control
High-quality products are manufactured, not inspected. We have a standardized production process and detailed operation instructions for each method of the production line to ensure the correct implementation of the operating specifications and operation standards.
Final Quality Control
We strictly follow the international standards and customer standards to inspect and control the delivery quality, timely follow up the quality performance of the products after delivery, and take quick and effective improvement actions for the feedback of customer's abnormal condition.
Quality Management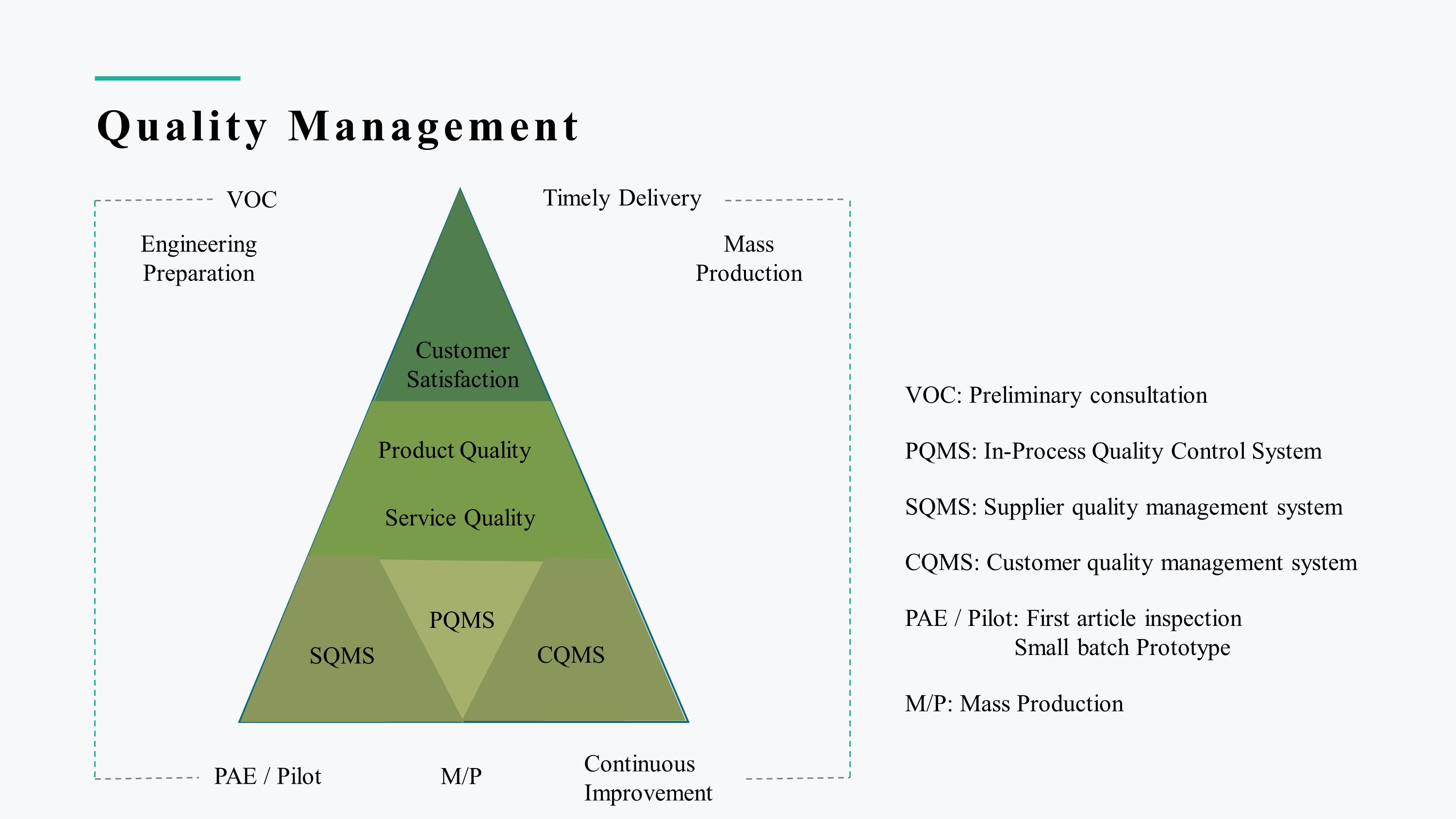 Service Commitment
Excellent service, Quick response, Fully Support.
Quotation response within one hour

Comprehensive marketing service with 24 hours

Professional technical support with 24 hours

24-hour production running

24-hour delivery service

Professional customized Service
One-step Service From PCB Manufacturing to PCB Assembly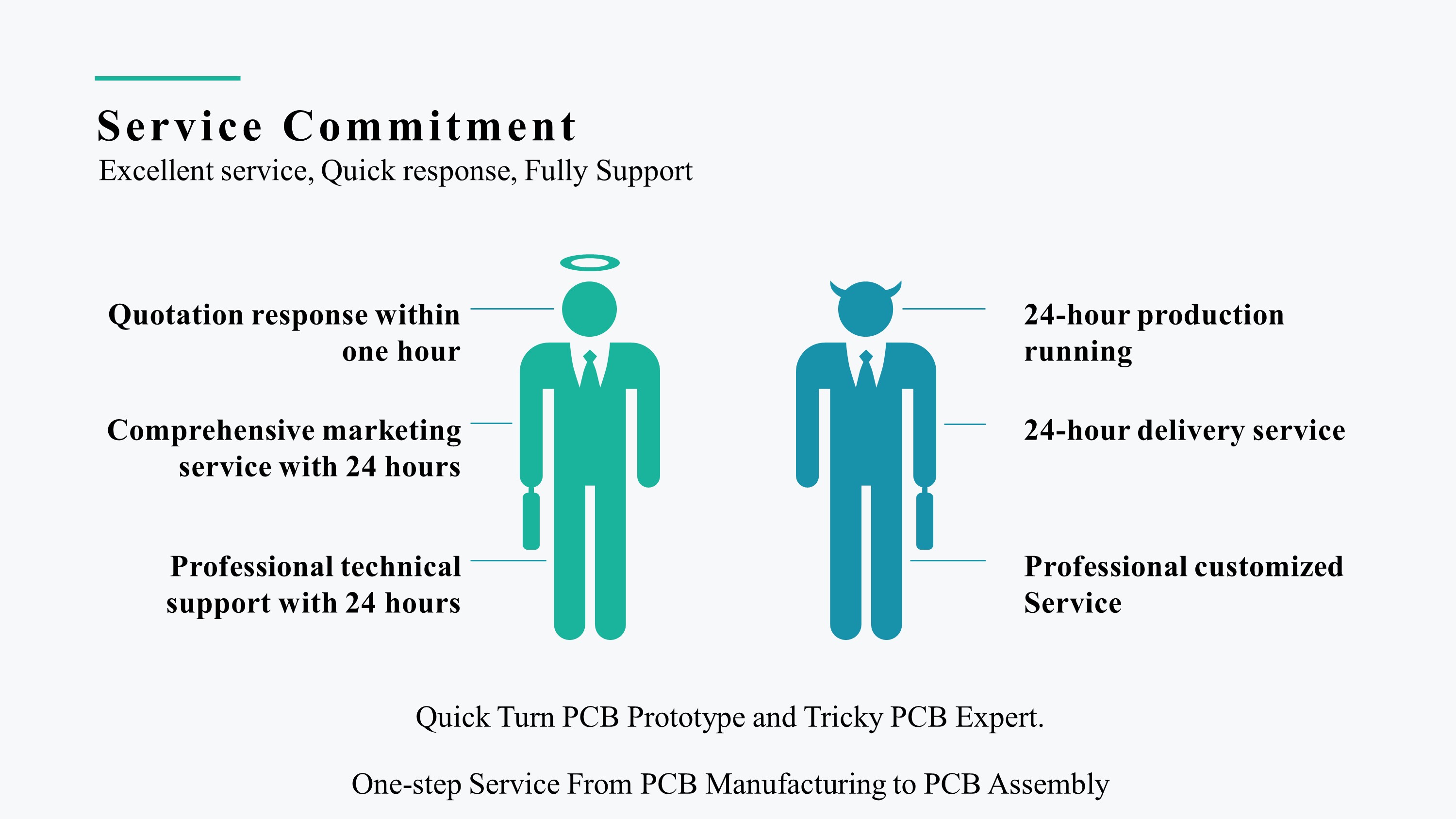 Visit Factory and Exhibition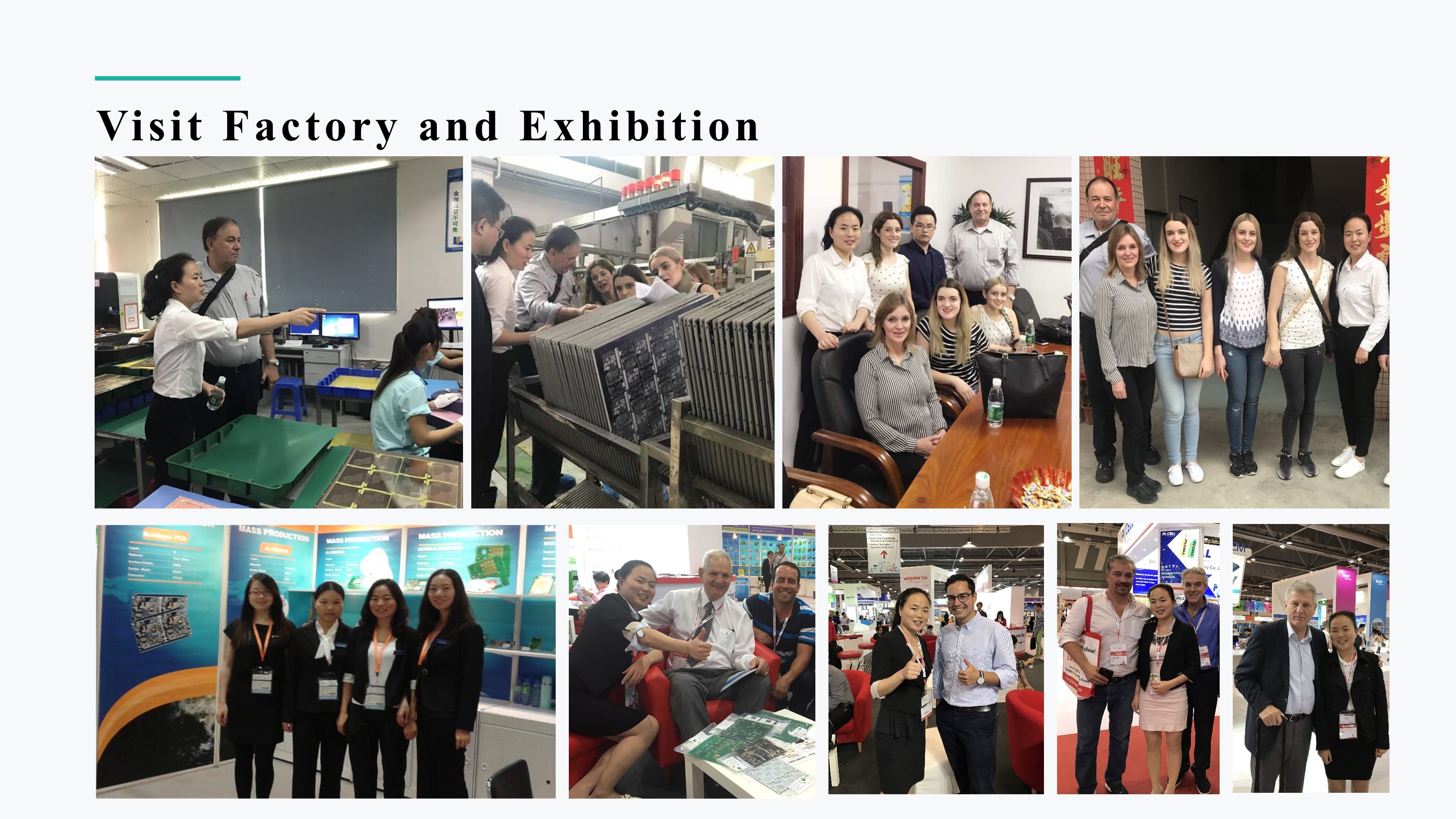 Excellent Suppliers - SM ink, CCL, Chemical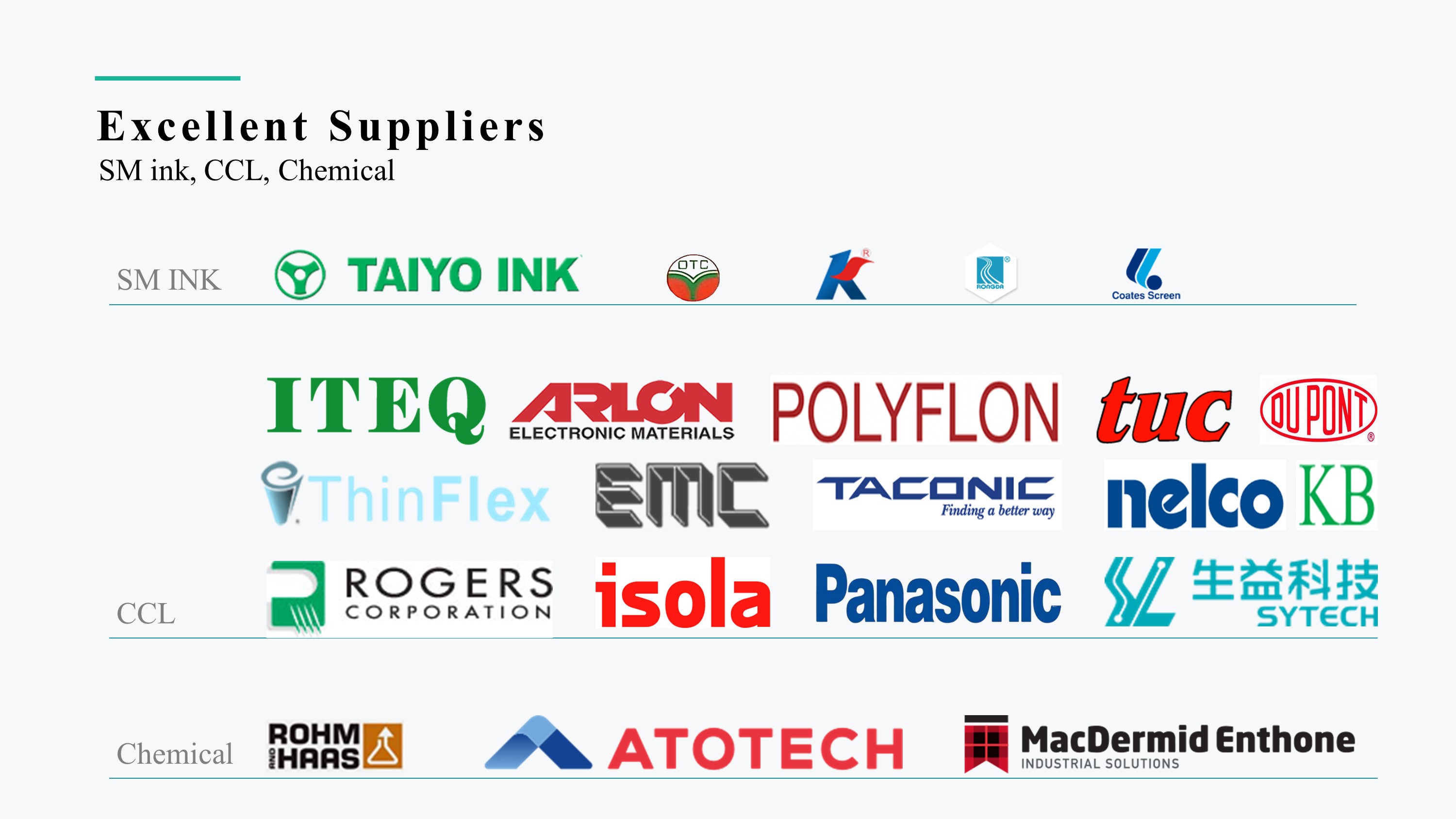 8 Advantages
1. Diversified Production Capability
5G Mobile Communication. Taconic/Rogers/Arlon PCB. Heat sink PCB/AL PCB. Antenna PCB. PA PCB/Hybrid PCB. High Precision Multilayer / Impedance PCB. Half hole PCB/film cover PCB. Other special PCB. Normal FR-4 PCB.
2. High Cost Performance Ratio
Own PCB manufacturing and PCB assembly factory,We can provide the most cost-effective products.
3. Stable and Fast Delivery Performance
1L:12 hours
2L:12 hours
4L:12 hours
6L:12 hours
4. Personalized Service
Technical support engineers provide one-to-one service from product proofing to mass production to after-sales, realizing order online tracking and after-sales service.
5. Rapid Order Response
Quotation System: Quote within 24 Hours
Service System: Respond within 30 Minutes
EQ System: Nearly 30 technical support teams responded quickly within 24 hours
Language services: Chinese, English, Korean, Japanese and Vietnamese
6. Stable Quality
Excellent QA, production management system and technology team to assure quality.
7. Advanced Technology and Equipment
JHYPCB has a strong technical team and advanced PCB manufacturing equipment, which can provide excellent technical support and after-sales service in an all-round to provide customers with efficient manufacturing and reliable products.
8. Advanced Management System SQM
SQM regularly audits qualified raw material suppliers to promote continuous improvement and ensure quality.
CRM regularly collects customer needs and problems to better provide customers with quality solutions.
ERP can track the order status at any time through the production base ERP system.
Package and Shipping
Use one professional PCB vacuum bag, with a desiccant inside. Vacuum compressed totally.

Paste label and RoHs mark. Use second vacuum bag to protect boards again, vacuum compressed, make sure no exception.

Microsection report and Tin testing board are put together with PCB in cartons. COC (Certificate of Conformity) will be sent to the customer by email in PDF.

Several layers of thick EPE(Expand aple poly ephylene) are filled fully in gaps between PCBs and cartons. The thickness of 1 layer EPE is 10mm.

Neutral Packing is adopted if no special requirements — strong and thick cartons(Thickness:10mm, seven layers). Different sizes of boxes are designed to meet the demand of different PCB size. All package is within the weight limit of cartons. For mass production order, no exceed 21kg per carton normally.

All cartons sealed with strong adhesive tape should be sealed twice to make them more durable.

Solid PP/PET strapping is used outside of cartons.

Shipping mark, fragile mark and postcode label are all pasted clearly.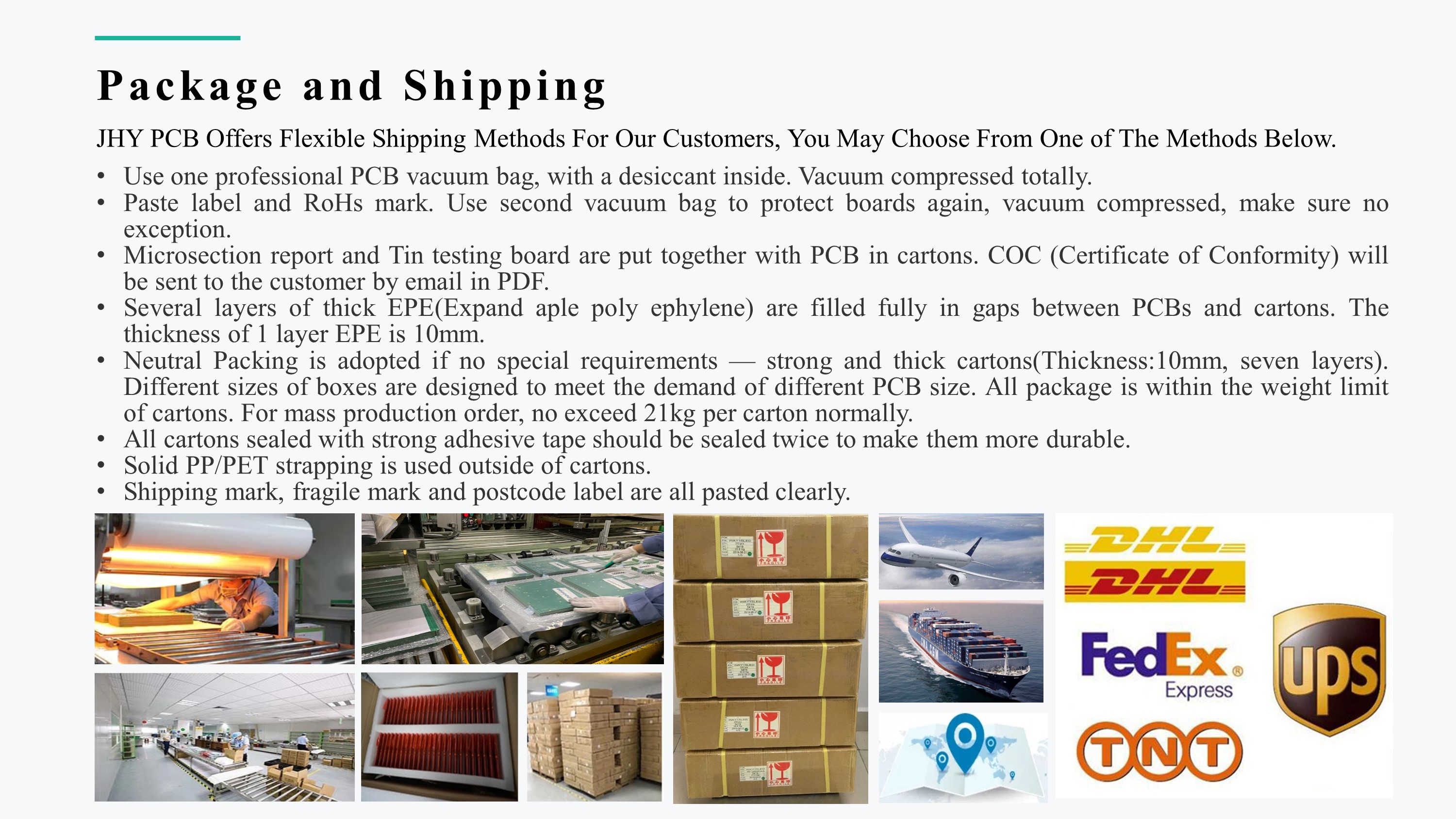 JingHongYi PCB (HK)CO., Limited
As a high-end circuit board maanufacturer, JHYPCB has the ability to provide a variety of tricky PCBs manufacturing.
Specialized in high density, high difficult technology

99%+ customer satisfaction rate

Diversify PCBs manufacturing

Competitive price & NO min order quantity required

No additional tooling charge for PCB reorders

Quality guaranteed services

Quick-turn around delivery time, 24 hours delivery available

Free DFM check by professional engineers

Knowledgeable support team available via phone and email

Function test based on customer's specific requirements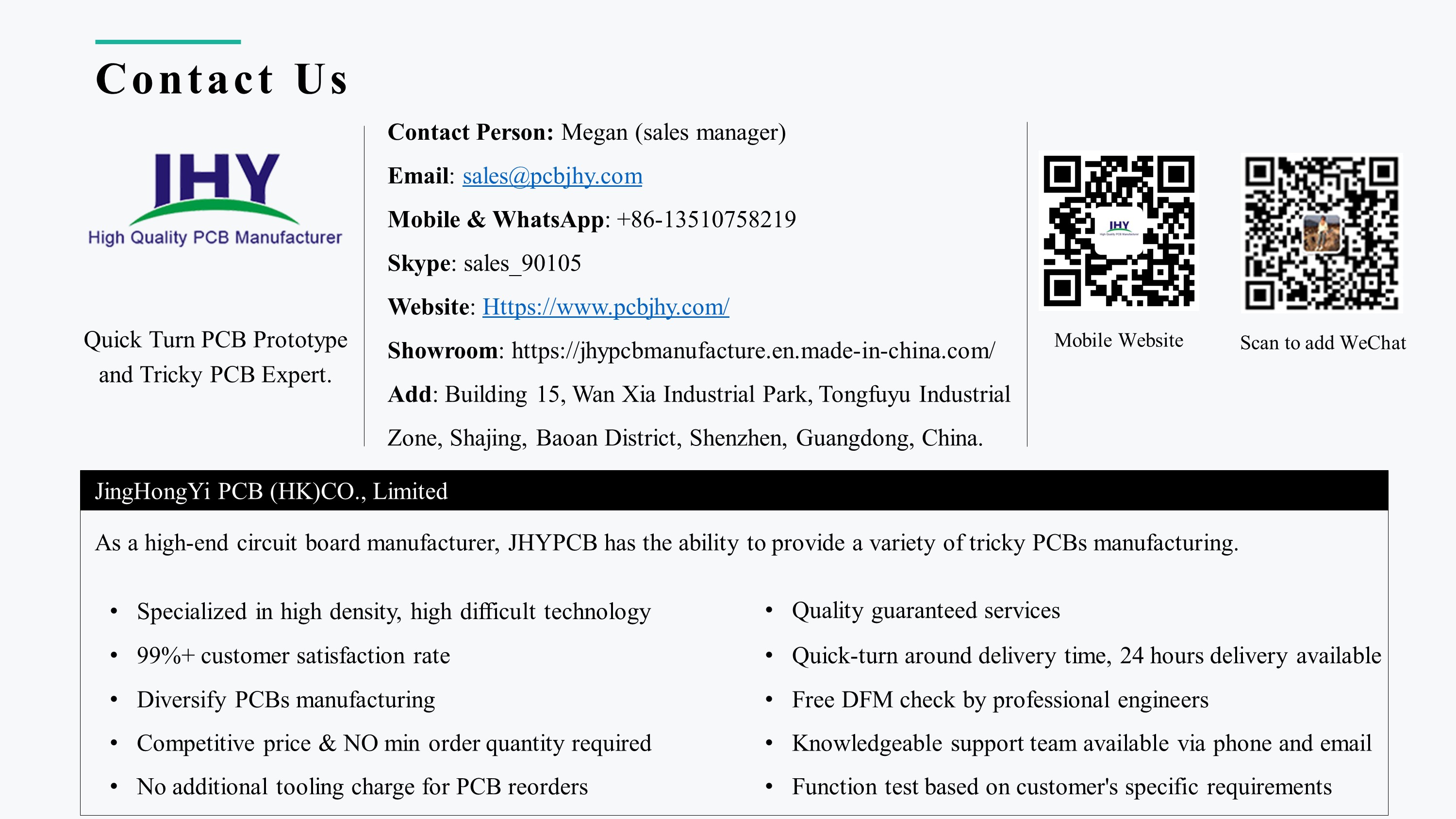 FAQ
Q1: What service do you have?
A: We are the factory, we have our PCB manufacturing & Assembly factory.
We can offer a one-stop service from PCB manufacturing to PCB assembling, testing, housing, and other value-added services.
Q2. What is needed for PCB or PCBA quotation?
A: PCB: Quantity, Gerber file and Technic requirements(material, surface finish treatment, copper thickness, board thickness,...)
PCBA: PCB information, BOM,Testing documents...)
Q3. What file formats do you accept for PCB and PCBA production?
A: Gerber file: CAM350 RS274X
PCB file: Protel 99SE, P-CAD 2001 PCB
BOM: Excel (PDF,word,txt)
Q4: What any other information should be offered except for the file?
A5: Following specifications are needed for the quotation:
a) Base material
b) Board thickness:
c) Copper thickness
d) Surface treatment:
e) color of solder mask and silkscreen
f) Quantity
Q5: What is your minimum order quantity?
A: Our MOQ is 1 PCS.
Q6. Shipping cost?
A: The shipping cost is determined by the destination, weight, packing size of the goods. Please let us know if you need us to quote you the shipping cost.
Q7: Are my PCB files safe when I submit them to you for manufacturing?
A: We respect customer's copyright and will never manufacture PCB for someone else with your files unless we receive written. Permission from you, nor we'll share these files with any other 3rd parties.
Q8: No PCB file/Gbr file, only have the PCB sample, can you produce it for me?
A: Yes, we could help you to clone the PCB. Just send the sample PCB to us, we could clone the PCB design and work out it.
Q9: What payment do you accept?
A:-Wire Transfer(T/T)
-Western Union
-Letter of Credit(L/C)
-Paypal
-Ali Pay
-Credit Card
We recommend bank transfer.
Q10: How to get the PCBs?
A: For small packages, we will ship the boards to you by DHL, UPS, FedEx, EMS. Door to door service! You will get your PCBs at your home.
For bulky goods more than 300kg, we may ship your PC boards by ship or by air to save freight costs. Of course, if you have your forwarder, we may contact them for dealing with your shipment.
Q11. How about the delivery?
Usually, for sample order, our delivery is about five days. For small-batch, our delivery is about seven days.
For the mass production batch, our delivery is about ten days.
But that depends on the real condition when we get your order.
If your order is urgent, please contact us directly, we will make a priority to deal with it and do our best to give you a satisfied delivery time.
Q12: How about your factory production capacity?
A: we can provide 40000 square meter/month.
Q13: Which countries have you worked with?
A: US, Canada, Italy, Germany, Czech Republic, Australia, Japan, Spain, Portugal, France, Britain, Poland, Ukraine, Russia, Brazil, Argentina, and so on.
Q14: How do you ensure the final quality of the product
For PCB, we will use the Flying Probe Test, E-test, etc. for it.
For PCBA, we need you to offer us a method or test fixture for the function test. Before that, our inspectors will use a microscope and X-ray to check the IC foot welding or bad solder, etc.
Q15: Will you check my files before production?
A: Yes, our engineer will check your Gerber file and BOM list to avoid any mistake.
Q16: My budget is limited; can you provide solutions to save cost?
A: Yes, we can. For example, for PCBA: Replace the DIP components with SMD components, so it can narrow the PCB board size to save cost. Re-layout the PCB to reduce the size, it can save cost. Also, we can recommend alternative components.
Q17: Do you accept process materials supplied by clients?
A: Yes, we can provide the component source, and we also accept component from the client.
Q18: Can we visit your company?
No problem. You are welcome to visit us in Shenzhen.
JingHongYi PCB (HK) Co., Limited
Jinghongyi PCB (HK) Co., Limited es un fabricante profesional de PCB de alta calidad. JHY PCB se especializa en prototipos de PCB de giro rápido, PCB de volumen pequeño a mediano. Fundada en 2011, ubicada en el distrito de Baoan, Shenzhen, China, con más de 500 empleados experimentados, podemos lograr una producción mensual de 40000 metros cuadrados.
Servicios de fabricación de PCB
Como uno de los principales fabricantes de placas de circuito impreso con sede en China, JHYPCB ha estado ofreciendo a empresas internacionales de todos los tamaños con prototipos de PCB de alta calidad para servicios de producción a precios justos durante 8 años. Para fabricar placas de circuitos profesionales y avanzadas, nos comprometemos a cumplir con los estándares más estrictos durante el proceso de fabricación de PCB, cumplimos totalmente con el sistema de gestión de calidad ISO 9001: 2008.
- ¡Ahorre dinero y tiempo! ¡Alcanza la tranquilidad!
- Un fabricante profesional y confiable de prototipos de PCB.
- El prototipo de PCB más rápido.
- Una solución integral para varios PCB y SMT Stencil.
- Bajo costo para PCB simple.
- Precio asequible para PCB de alta tecnología.
- Pedidos mínimos 1pcs.
- Servicio al cliente en línea las 24 horas.
- Ingeniero profesional de PCB para servicio uno a uno.
- Envío a tiempo.
- Garantizar un buen servicio y calidad desde la cotización de PCB hasta la entrega.
Servicios de ensamblaje de PCB
Para ofrecer un verdadero valor y conveniencia a nuestros clientes de fabricación de PCB, ampliamos nuestro negocio a servicios de abastecimiento de componentes y montaje de PCB llave en mano que van desde prototipos, volumen bajo a medio hasta alto volumen de hasta 1 millón de piezas. Podemos montar componentes en placas de circuito utilizando tecnología de montaje en superficie (SMT), tecnología de orificio pasante (THT) e inserción manual:
- Servicios de montaje de alta calidad con plazos de entrega cortos.
- Sin pedido mínimo
- Sin cargo adicional por plantillas
- Cheque DFM gratuito
- Prueba 100% AOI y prueba de rayos X para el paquete BGA
- Pruebas de función y programación de IC basadas en requisitos personalizados
Nuestra empresa está aprobada por UL, TS16949, ISO-9001 y RoHS.
Todas las placas se producen de acuerdo con los estándares IPC-6012 y se inspeccionan de acuerdo con IPC-A-600 en la última versión. Nuestros productos se aplican ampliamente en comunicaciones, control industrial, electrónica de potencia, equipos médicos, electrónica de seguridad, electrónica de consumo, LED, etc. Más del 90 por ciento de ellos se exportaron a Europa, Norteamérica y Sudamérica.

El servicio de una parada incluye
Nombre de empresa: JingHongYi PCB (HK) Co., Limited
Representante: Chen Zhi
Producto / Servicio: Fabricante de PCB , Prototipo de PCB , PCB flexible , PCB multicapa , PCB de aluminio , PCB Flex rígido
Capital (Million US $): US$1.5 Million
Año de fundación: 2011
Facturación Annual: US$50 Million - US$100 Million
Porcentaje de exportación: 91% - 100%
Volumen Total de Compras anual (Millones de dólares EE.UU.): US$10 Million - US$50 Million
Número de Líneas de Producción: 8
Número de empleados para investigación y desarrollo: 5 -10 People
Número de empleados para control de calidad: 41 -50 People
Servicio del OEM proporcionado: yes
Tamaño de la fábrica (metros cuadrados): 1,000-3,000 square meters
Ubicación de la fábrica: Building 15, Wan Xia Industrial Park, Tongfuyu Industrial Zone, Shajing,Baoan District, Shenzhen, China.
Persona de Contacto: Ms. Megan
Número de Teléfono: 86-1351-0758219